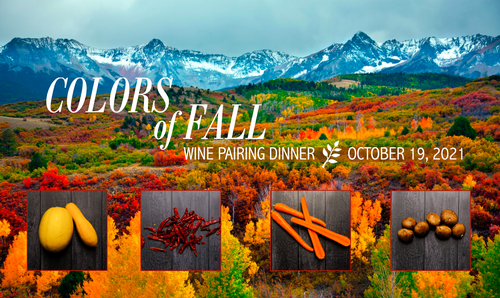 COLORS OF FALL - A MONOCHROMATIC CULINARY EXPERIENCE
Tuesday, October 19, 2021

Fall colors are popping up around us, and Bigsby's will celebrate the change in season with a dinner featuring the colors of Fall--Orange, Yellow, Brown, and Red. Each dish will feature only those colors, in different hues, in a culinary experience delivered by our exceptional chef team, Executive Chef Matt Heikkila and Sous Chef Brian Smith. This month the "Sommelier's Enhancement" ($35) will feature additional worldly pours to elevate your dining experience with Vintage Premier Cru Champagne and a showstopping Brunello, among others.

Our Sommelier, Matt Strauch, will guide us through each of the pairings and answer your most burning winemaking and wine pairing questions. Gluten-free and dairy-free available upon request. Vegetarian requests will require significant modifications. Please contact matt@bigsbysfolly.com with any questions. If you wish to sit with others, please indicate that in the questionnaire that will be sent to you after your purchase is confirmed. Please alert us to allergies, dietary restrictions, and indoor/outdoor seating preferences in that same questionnaire.
$99 Per Person. 6pm Welcome. 6:30pm Dinner.

Sommelier's 4-Course Wine Enhancement
Additional 2-3oz pours with each of hand-selected worldly wines that accentuate your multi-course sensory experience. Our Sommelier will personally guide you through each course and the side-by-side complement to the main pairings. $35 per person with dinner ticket purchase.
MENU

Welcome Beverage
Sparkling Rosé of Gamay (Pet Nat), Domaine Saint Cyr, Beaujolais, Burgundy, 2020
First Course - ORANGE
Vanilla Roast Carrot Bisque (gf) chili spiced carrot crumb, pickled carrot salad
Cabernet Franc, Bigsby's Folly, Lake County, CA, 2016
Optional Sommelier's Enhancement: Gewurtztraminer ("Tradition"), Domaine Emile Beyer, Alsace, FR, 2018
Second Course - YELLOW
Lump Crab and Spaghetti Squash "Carbonara" (gf) duck fat bearnaise, shaved egg yolk, guanciale bacon
Chardonnay, Bigsby's Folly RESERVE, Sonoma Coast, CA, 2017
Optional Sommelier's Enhancement: Champagne (Brut), 1er Cru, "Pinot Meunier À Chamery Des Terres Amoureuses Millésimé," Bertrand-Delespierre, Champagne, FR, 2016
Third Course - BROWN
Coffee-Rubbed Tenderloin (gf) roasted shiitake mushroom, buttered potato puree, tobacco onions, merlot fig demi
Cabernet Sauvignon, Bigsby's Folly RESERVE, Napa Valley, CA, 2016 (pre-release)
Optional Sommelier's Enhancement: Sangiovese, Il Colle, Brunello di Montalcino, Tuscany, IT, 2015
Fourth Course - RED
Red Velvet Cake cranberries, beet powder
Sparklet Candy Red (sparkling sweet red), Verona, Sauvage Spectrum, Grand Valley, CO, 2020
Optional Sommelier's Enhancement: Brachetto, Pineto, Marenco, Brachetto d'Acqui, Tuscany, IT, 2019