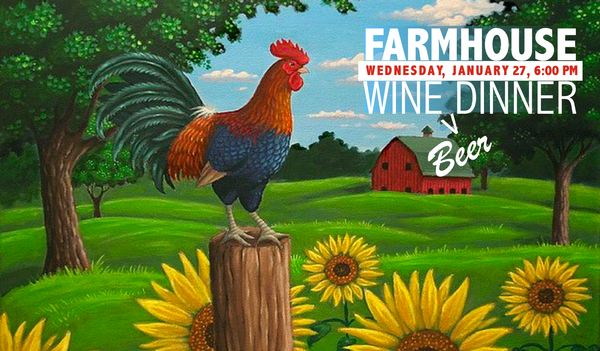 A FRENCH FARMHOUSE FEAST FEATURING A PRE-RELEASE TASTING OF A SPECIAL WEST RiNo COLLABORATION BALTIC PORTER
Wednesday, January 27, 2021, Welcome 6PM, Dinner 6:30PM
$125/person, includes a pre-fixe mixed Beer/Wine pairings
We are pleased to showcase the beer and spirits from our neighbors, Great Divide Brewery, Mockery Brewery, and Ironton Distillery. Over the past few months, we've collaborated to bring a new Baltic Porter to Denver to raise funds for the RiNo Art Park located just down 36th Street. This labor of love involved aging the beer in one of Bigsby's Cabernet Franc French oak barrels and Ironton's Aquavit barrels, with Great Divide taking the lead on their small pilot system.
With such a rich selection of drinks, we have crafted a robust 4-course menu with a mixed beer/wine pairing. Our Sommelier, Matt Strauch, will guide us through each of the pairings and answer your most burning winemaking questions. Gluten-free and vegetarian available upon request.
---
WELCOME BEVERAGE
Bigsby's Signature Hot Mulled Wine
FIRST COURSE (DFO)
Duck Paté with Apricot Jam and Devils on Horseback with Pomegranate Gastrique
3 oz. Beer Pairing: French Saison, Mockery Brewing
3 oz. Wine Pairing: 2016 Sonoma Reserve Chardonnay, Bigsby's Folly
SECOND COURSE (GF/DFO)
Pork Tenderloin Au Poivre with Sumac Roasted Beets, Bearnaise, Sauce Poivrade
3 oz. Wine Pairing: 2016 Cabernet Franc, Grand Valley, CO, Bigsby's Folly
THIRD COURSE (GF/DF)
Pork Belly, Elk Sausage & Duck Confit Cassoulet
3 oz. Beer Pairing: Collaboration "The Great Mockery of the Iron Folly," Baltic Porter
3 oz. Wine Pairing: 2014 THE ROCK DRILL, Cabernet Blend, Napa Valley, CA, Bigsby's Folly
FOURTH COURSE (GFO)
Chocolate Pot de Crème with Peanut Butter Chantilly Cream made with Ironton Distillery's Cacao Liqueur
3 oz. Beer Pairing: Peanut Butter Yeti, Imperial Stout, Great Divide Brewing Co.
3oz. Wine Pairing: "Boston" Bual, Historic Series Special Reserve Madeira, The Rare Wine Co, Portugal
DIGESTIF
Choice of Ironton's Barrel-Aged Aquavit or Bigsby's Housemade Limoncello
Executive Chef: Bryston Palmer
Sous Chef: Emily Boyd
---
We will be complying with all Denver and Colorado Covid-19 guidelines to ensure the safety of our guests and our staff. Masks are required to enter the winery and must be worn except when seated at your table. Individual tables will be assigned for each household/group and will be spaced appropriately. Maximum of 10 people per group. If you wish to sit with others, please indicate that in the questionnaire that will be sent to you after your purchase is confirmed. Please alert us to allergies (including gluten-free) in that same questionnaire.