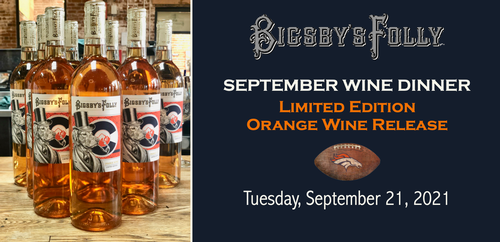 We are commemorating the end of the Summer with the special release of our very Limited-Edition Orange Wine with Bronco's-themed label, and a 4-course dinner of end-of-season ingredients by our exceptional culinary team, Executive Chef Matt Heikkila and Sous Chef Brian Smith. This month we are featuring a "Sommelier's Enhancement" ($29) with additional worldly pours of skin-contact, orange, and/or organic wines to accentuate your pairing experience.
Our Sommelier, Matt Strauch, will guide us through each of the pairings and answer your most burning winemaking and wine pairing questions. Gluten-free and dairy-free available upon request. Vegetarian requests will require significant modifications. Please contact matt@bigsbysfolly.com with any questions. If you wish to sit with others, please indicate that in the questionnaire that will be sent to you after your purchase is confirmed. Please alert us to allergies, dietary restrictions, and indoor/outdoor seating preferences in that same questionnaire.
$99 Per Person. 6pm Welcome. 6:30pm Dinner.

Trying something new...
Sommelier's 4-Course Wine Enhancement
Additional 2-3oz pours with each of hand-selected worldly wines that accentuate your multi-course sensory experience. Our Sommelier will personally guide you through each course and the side-by-side complement to the main pairings. $29 per person with dinner ticket purchase.
MENU

WELCOME BEVERAGE
Macerato Sur Lieviti Vino Spumante (Sparkling Skin-Contact Pinot Grigio), Cantina Furlani, Trentino-Alto Adige, 2020

FIRST COURSE
Heirloom Tomato Salad (gf/veg) - goat feta, balsamic pearl, watercress pistou, jalapeno vinaigrette
Sauvignon Blanc, Bigsby's Folly, Lake County, CA, 2020
Optional Sommelier's Enhancement: Verdejo/Sauvignon Blanc (Orange Wine), Gulp/Hablo, Spain, 2020
SECOND COURSE
Roast Artichoke Heart (gf/df) - duck prosciutto, jerusalem artichoke chips, pickled black walnuts, tarragon, and chive oil
Orange Wine Riesling (Limited Special Release), Bigsby's Folly, Grand Valley, CO, 2020
Optional Sommelier's Enhancement: Dry Riesling (Skin Contact White), Salomon Undhof "Alma Amphora," Kremstal, Niederosterreich, Austria, 2019

THIRD COURSE
Earl Grey Rubbed Beef Striploin (gf) - fennel pollen demi, maitake mushroom, pickled shallot, micro arugula
Barrel-Select Pinot Noir, Bigsby's Folly RESERVE, Dundee Hills, Willamette Valley, OR, 2016
Optional Sommelier's Enhancement: Pinot Noir, "Lisica," Sanctum, Primorje, Slovenia, 2019
FOURTH COURSE
Dark Chocolate and Orange Brownie - hazelnut butter, milk chocolate / GF, V
Orange Muscat, "Essentia," Quady, San Joaquin Valley, CA, 2017
Optional Sommelier's Enhancement: Maderia, "Boston Bual" Special Reserve, Rare Wine Co., Maderia, Spain, NV