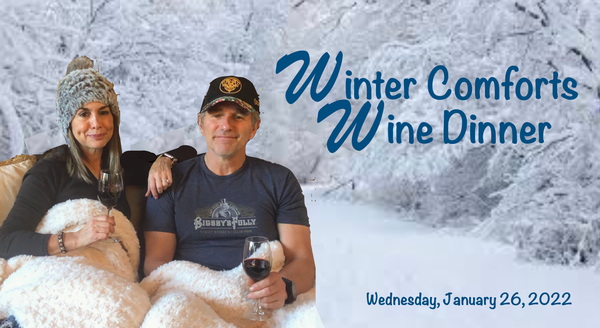 WINTER COMFORTS WINE DINNER
Wednesday, January 26, 2022
'Tis the season to snuggle up with a big glass (or several) of wine and comfort foods that remind us of that favorite spot in front of the fireplace. Executive Chef Matt Heikkila and Sous Chef Brian Smith have curated a unique pairing menu to highlight the flavors of the season and our optional "Winemaker Enhancement" ($24) will feature two additional, exquisitely-paired selections by our Assistant Winemaker & Co-Owner, Chad Yetka.
Gluten-free, dairy-free & vegetarian available upon request. Please contact marla@bigsbysfolly.com with any questions. If you wish to sit with others, please indicate that in the questionnaire that will be sent to you after your purchase is confirmed. Please alert us to allergies, dietary restrictions, and seating preferences in that same questionnaire.
Winemaker's Enhancement:
Two additional hand-selected, 3oz pours, that will accentuate your multi-course sensory experience. Our knowledgable staff will guide you through the side-by-side complement to the main Bigsby's Folly pairings.
$99 Per Person includes welcome beverage and a four-course (food/beverage) pairing dinner.
6pm Welcome. 6:30pm Dinner.
MENU

WELCOME BEVERAGE
Bigsby's Malbec & Pomegranate Cordial
FIRST COURSE
Seeded Persimmon Caprese (V) persimmon, fresh mozzarella, everything spice, chamomile, black garlic molasses, yuzu, focaccia
Pinot Noir, Bigsby's Folly RESERVE, Sonoma Coast, 2017
SECOND COURSE
Polenta and Kale Pesto Jumbo Tortellini (V) caramelized cippolini onion, porcini brood, sorrel
Chardonnay, Bigsby's Folly RESERVE, Sonoma Coast, CA 2017
Optional Winemaker's Enhancement: Chablis Coquillage MOILLARD, Burgundy, FR 2018
THIRD COURSE
Five Spice Duck Confit (GF) red wine braised cabbage, olive oil toasted hazelnuts, truffled celeriac frites
Zinfandel, Bigsby's Folly, El Dorado, CA 2019
Optional Winemaker's Enhancement: Zinfandel, BIGSBY'S FOLLY, El Dorado, CA 2020 (Pre-Release)
FOURTH COURSE
White Chocolate Pot de Créme (GF) blood orange compote, marcona almond, candied zest
Rosé Mimosa, Bigsby's Folly Brut Cuvée & Rosé of Grenache, rosemary & pink peppercorn