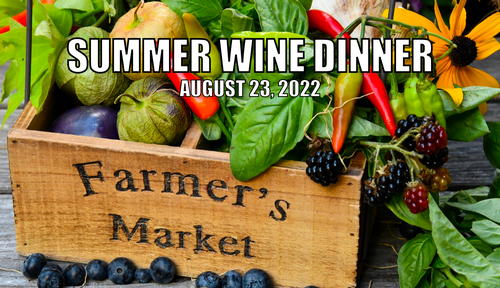 Colorado Farmer's Market Wine Dinner
Tuesday, August 23, 6:30pm
Our August wine dinner celebrates Colorado farmers! Executive Chef Matt Heikkila and Sous Chef Brian Smith have curated a unique pairing menu to highlight the best, locally-grown, fruits and vegetables of the season.
Please contact marla@bigsbysfolly.com with any questions. If you wish to sit with others, please indicate that in the questionnaire that will be sent to you after your purchase is confirmed. Please alert us to allergies, dietary restrictions, and seating preferences in that same questionnaire.
Winemaker's Enhancement:
Two additional, 3oz pours, that will complement the selected pairings and accentuate your sensory experience. Our knowledgable staff will guide you through the side-by-side complement to the main Bigsby's Folly pairings.
$99 Per Person includes welcome beverage and a four-course (food/beverage) pairing dinner. 6:30pm Welcome. 7pm Dinner.
FIRST COURSE
Breads and Butters / local sourdough, caramelized palisade peach "butter", roast shallot "butter", local basil herb oil, Colorado honeycomb. Pairing: Rhone Blend Spritz with Peach, Honey & Basil
SECOND COURSE
Olathe Corn Gazpacho / heirloom tomato and green chili salsa, tortilla crumble, micro cilantro. Pairing: Bigsby's Folly Zinfandel, El Dorado, CA 2019
THIRD COURSE
Casarecci and Garden Squash Ragu / Charred Zucchini and Yellow Squash, cassarecci local made and milled pasta, tomato, local herbs, reunion rye panna gratta. Pairing: Bigsby's Folly Reserve Malbec, Sonoma Valley, CA 2018
FORTH COURSE
Rockyford Melon "Poke" / rum poached melon, almond rice pudding, spearmint gel, babu arare. Pairing: House-Made Vermouth with Bigsby's Folly EPP Bordeaux Blend