Wine & Waffles Galentine's Day Celebration - SOLD OUT!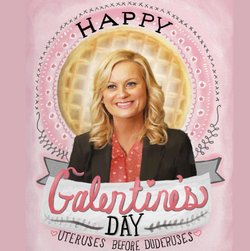 What is Galentine's Day you ask?

"Oh it's only the best day of the year. My lady friends and I leave our husbands and our boyfriends at home, and we just come and kick it, breakfast-style. Ladies celebrating ladies."

In honor of this special day, we'll be serving up your choice of wine, sangria or mimosa with a make-your-own sweet & savory waffle buffet. So grab your BFF and join us for wine, waffles and an unforgettable girls night out!

That's right, breakfast for dinner! Champagne-Buttermilk, Rosé-Ricotta and Gluten-Free batters with dozens of toppings that will pair perfectly with your glass of wine, sangria or mimosa.
Tickets are $29.95 and include your first glass of wine, sangria or mimosa and our extensive waffle buffet. Doors open at 5:30pm!